England Country Final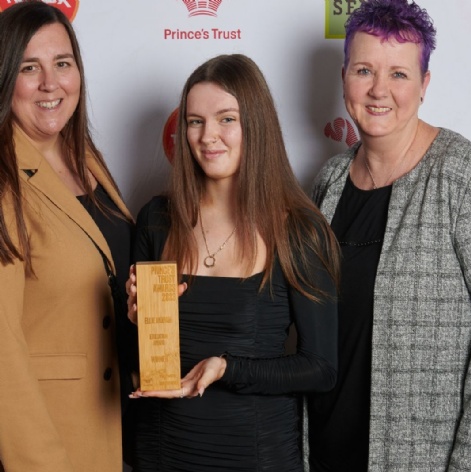 Our England Country Finals of The Prince's Trust and TK Maxx & Homesense Awards.
The Ascential Education winner
"The Prince's Trust helped me to become a more mature, confident and a better person. It set me on the right path and gave me direction I needed."
Ellie has proven herself to be a hard-working, resourceful young woman and is thriving in her college education today. It's hard to imagine that there was once a time when she so withdrawn from school that she didn't see the point of attending.
Having experienced significant trauma when she was around nine years old, Ellie had to deal with a lot emotionally from a very young age. This really affected her confidence and she became increasingly isolated. School was the last place she wanted to be.
"By secondary school I was getting into trouble for arguing with teachers and other students. I would often get very angry and walk off-site to cope. I spent two years on a reduced timetable and in isolation. When I came back, I started falling behind in classes which really knocked my confidence. I just didn't see the point of going to school."
Ellie joined The Prince's Trust Achieve programme at the Dacorum Education Support Centre (DESC) but found it difficult to adjust. Struggling to make friends or forge relationships with staff, she remained withdrawn and her behaviour continued to be challenging.
When the pandemic hit, Ellie tried to engage with online learning, but the lack of structure only made her feel more anxious and frustrated. When she went back to in-person learning, it wasn't long before she was removed from the programme due to her disruptive behaviour.
This was a real turning point for Ellie. She began to accept support and returned to the Achieve programme, attending all the activities and even staying extra hours to catch up with any missed work. Ellie also took the initiative to complete a Level 1 Hair and Beauty course off-site and went on to do some work experience at a local salon, which helped to support her learning and strengthen her skills.
By the end of her time at DESC, Ellie's attendance record was 97 per cent and she had gained a number of GCSEs including in English, Maths and Functional Skills. She thoroughly enjoyed being in the centre and even volunteered to do jobs, such as working in the kitchen. The staff considered her an integral member of the team, commenting "the building would fall down if she wasn't in it."
Ellie's life outside of education also improved. She took on a part-time job, which provided her with an income and an opportunity to gain independence. Ellie also began to reconnect with her friends.
Ellie went on to secure a place at college, with support from The Prince's Trust, and is now studying Level 2 Hair and Beauty. She looks forward to continuing her education and progressing onto a Level 3 course.