Coronavirus Updates 25/03/2020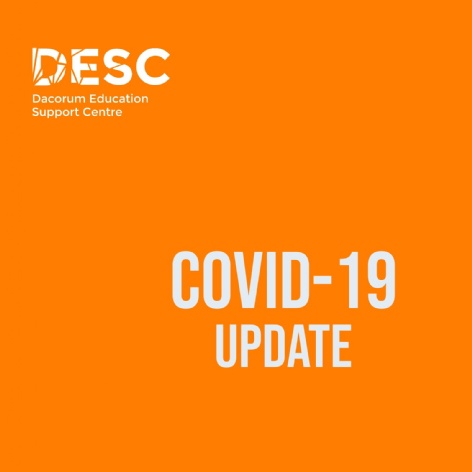 Due to the current Coronavirus pandemic we are operating with a limited workforce. If you are a learner, parent or professional (working/concerning one of our learners) and require any assistance please contact via the e.mail below:
Info@desc.herts.sch.uk
We will be in contact within 24 hours.
On Thursday, 12th March, the Government announced that the country has moved out of the 'contain' phase and into the 'delay' phase with the UK Chief Medical Officers raising the risk to the UK from moderate to high. The World Health Organisation has confirmed that the outbreak is now categorised as a pandemic (i.e. it has spread globally).
The Government announcement contained the following important updates for schools:
Schools in the UK will remain open. The Government have announced that schools will remain open at this stage. Clearly, this is a still a measure that may be introduced in the weeks to come, as we have seen in other countries. The school staff are preparing for this eventuality by ensuring that teaching resources will be available for students.

Overseas trips likely to be cancelled.

Domestic trips likely to go ahead. The Government is currently not advising against domestic school trips. We will review any trip that is currently planned on an individual basis, liaising closely with travel companies and trip destinations to ensure our risk assessments are up-dated and additional precautions, including cancellations, considered and communicated with parents/carers.

Self-isolation for specific symptoms. The Government have advised that anyone with a high temperature (37.8 degrees and above) or a new, continuous cough should self-isolate for 7 days. For more guidance please clink on the link see NHS guidance - https://www.nhs.uk/conditions/coronavirus-covid-19/ & or online service https://111.nhs.uk/covid-19

Importance of personal hygiene. The scientific and medical advice that most people should follow continues to be focused on the importance of personal hygiene, especially: washing hands using soap and warm water or an alcohol-based hand rub; avoiding touching the eyes, nose and mouth; catching coughs and sneezes in a tissue which is immediately disposed of; and maintaining social distance. The World Health Organisation have published advice here https://www.who.int/emergencies/diseases/novel-coronavirus-2019/advice-for-public
"We currently have no confirmed cases of COVID-19 Coronavirus amongst pupils or staff."
The centre will continue to communicate with you when there are any significant changes. Please be cautious of rumours that may be circulating, especially about closures or pupils and staff contracting the virus. Official school communications will come through phone calls home and the school website.
We are doing everything we can to maintain the safety and wellbeing of all members of our centre community, while continuing the normal routines of teaching and learning.
General Advice
Hygiene measures:
It is important that we practice the good hygiene we should all be doing anyway for colds and flu as this will significantly disrupt spread.
Catch it, Bin it, Kill it : Sneeze into disposable tissues "Catch it", dispose of them "Bin it" and then wash hands with warm soap and water or use hand sanitiser gel if it is not possible to wash ("kill it".)
Wash your hands regularly with soap and water or hand gel as a second best if it is not available
Avoid touching your face unless you've just washed your hands
Ensure surfaces which get droplets on them from coughs and sneezes are cleaned with good detergents regularly if people are showing symptoms of colds and flu (eg handles, worktops, light switches etc)
What are the symptoms?

Symptoms range from cold like symptoms to body aches, chills, fever, severe shivering (flu like symptoms) to shortness of breath and wheezing. These symptoms are the same as many other conditions circulating so it is therefore currently highly unlikely anyone with these existing symptoms will have this coronavirus in Hertfordshire as things stand.
You can access the latest government information and advice here: https://www.gov.uk/guidance/wuhannovel-coronavirus-information-for-the-public
A UK wide campaign has been launched to provide clear advice on how to slow the spread of Coronavirus, which is attached for your reference.
Please help to support the campaign which promotes basic hygiene practices, such as regularly washing hands and always sneezing into a tissue, to stem the spread of viruses.
Further information is available from https://publichealthmatters.blog.gov.uk/2020/01/23/wuhan-novelcoronavirus-what-you-need-to-know/
USEFUL LINKS:
www.hertshelp.net/hertshelp.aspx
World Health Organisation Hygiene Advice