DESC Does Princes Trust Triple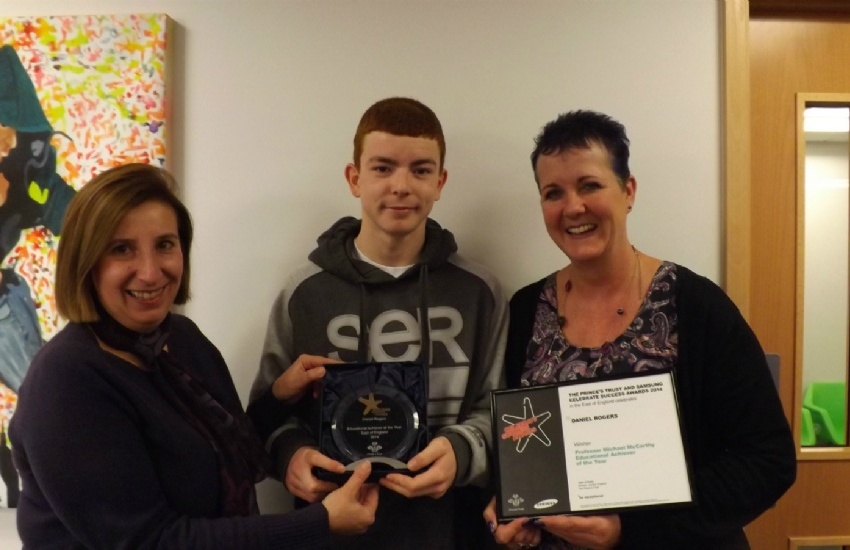 "Never in a million years did we think we would win it for a third year running. It is testament to the exceptional programme and superb staff team."
For the third year running, a student from the Dacorum Education Support Centre in Grovehill, Hemel Hempstead has been successful in winning the Prince's Trust Educational Achiever of the Year Award for the Eastern region. The award ceremony hosted by Gabby Roslin was held at the Gordon Craig theatre in Stevenage. It brought together nominees for a number of categories to hear who the eventual winners were.
Sara Lalis, the Headteacher said, "The XL Programme at DESC has been running for three years now. The award was won in 2012 by Sean Duddle and in 2013 by Nadine Rowe. Never in a million years did we think we would win it for a third year running. It is testament to the exceptional programme and superb staff team."
The programme delivered by Julie Wilcox and Tara Noble aims to equip students with a range of interpersonal skills to enable them to work effectively as a team as well as developing essential life skills.
This year's winner Daniel Rogers was chosen for the award after overcoming various health and personal issues to become a role model for others and gain a place at college. At 11, Daniel was told he would never run or play football again after several illnesses were diagnosed. Frustration combined with the side effects of medication led to behaviour issues and Daniel eventually stopped attending school.
Daniel joined the XL programme at DESC as part of a full time education programme designed to give him hope and opportunities in the future. Daniel flourished and has matured into a mature role model and ambassador.
Daniel said "They were just understanding on the Prince's Trust and I knew they cared. That made such a difference. I have made my mum proud and I am now proud of myself".
The Centre has invested in the Prince's Trust programme because of the unquantifiable benefits to the young people on the course. Winning the award for the third year running is recognition of the outstanding achievements of three individuals but also displays the quality of the provision in meeting the needs of the students.
Daniel has now been put forward to the national awards, a feat never before achieved by a DESC student.